Windows Phone 7 (WQVGA)
Portrait theme for WAD2 in style Windows Phone 7
1. Basic screens.
Two basic screens with icons (cubes), for access to the basic functions.
Cube Phone - displays quantity of the passed calls. If there are passed calls ontap on this cube translates on the screen of the passed calls. If is not present passed ontap translates to the usual telephone keyboard.
Cubes Text and Outlook - can be adjusted most. It is necessary to come into options of start of this cube and to register in a line of start "\Windows\tmail.exe"-service "mail name". Where mail name is a name of your accounting record, her name to enter match case. If to put SMS will come in SMS.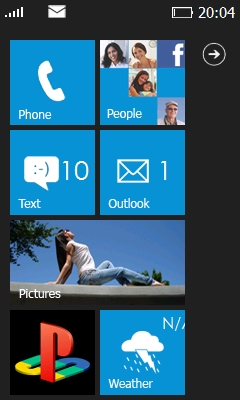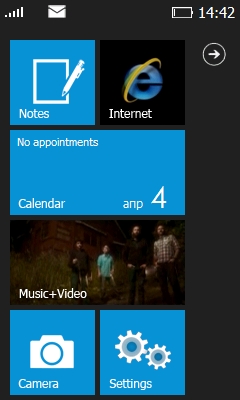 2. Lock screen.
What to block phone, it is necessary on the first basic screen (point 1) or on the screen of programs (point 3) to spend on the screen from top to down. To unblock spend from below upwards. On this screen are disconnected all a button hard (except food switching-off). If to press hours, day of week, date or month a food (the same is switched off what to press unitary a hard the food button).
I Recommend not to use this screen of blocking since WADовская blocking constantly глучит, clashes with a dialling program etc. Renominate better blocking to start S2U2, much more conveniently and more effectively.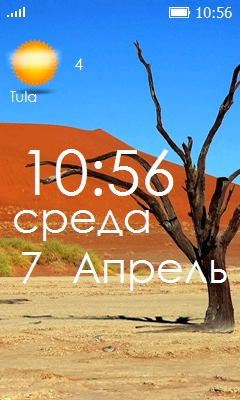 3. Screen of programs.
Page with programs one, on it it is possible to place about 32 icons with programs. All programs are broken into 4 sections (favorites, internet, multimedia, system, in everyone on 8 icons). Transition between sections is carried out by pressing an inscription with the necessary section. Button All - transition to standard windows to the list of programs.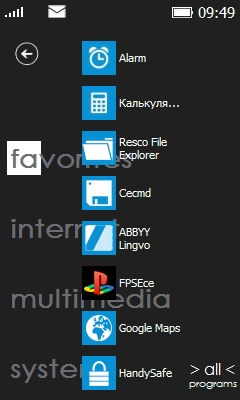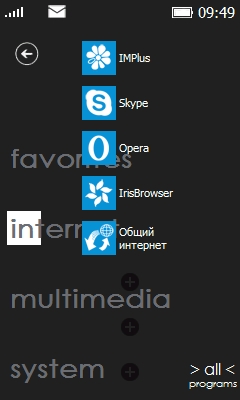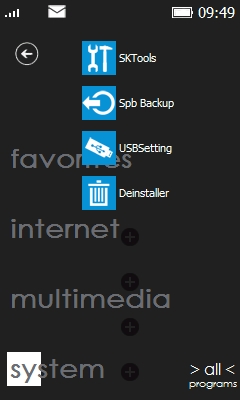 4. Dropping out bar.
On all screens (except the blocking screen) by pressing the top part of the screen (on a strip of icons with notices) the bar with fast access drops out. On it are located:
- Buttons of inclusion/deenergizing Wi-Fi, Bluetooth, the Internet, phone
- The information on a charge of the battery, free operative memory
- Buttons of the dispatcher of problems, the list of the started appendices, sound profiles (standard WAD)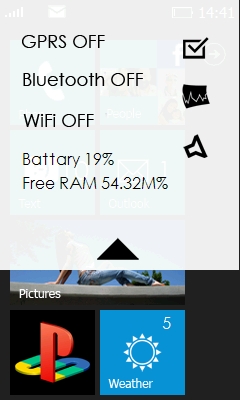 5. People.
Contacts are broken into two screens. On the first icons of contacts. On the second buttons for dispatch SMS and creation of new contact (while only in Russian if who that finds an aaplet on other, write).
6. Calendar.
To thumb through months, spend a finger on the screen (about the right on left - following, with left on the right previous). Button Go to - transition by current month. Between a calendar and buttons the list of immediate tasks is located.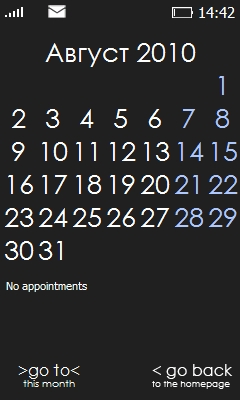 7. Settings.
Three pages with the basic options. Pressing an inscription general applications - transition to standard windows to options.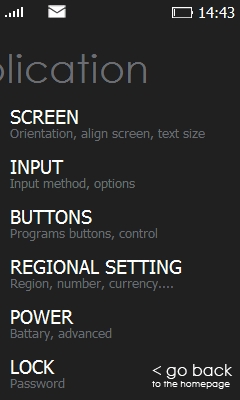 8. Internet.
The screen about the Internet bookmarks. On a sreen bookmarks Google and YouTube if at you they are not present in bookmarks Internet Explorer at you they will not be displayed are shown. To add bookmarks it is possible only those which is in Internet Explorer.
All other screens I will separately not describe, I will simply attach sreens.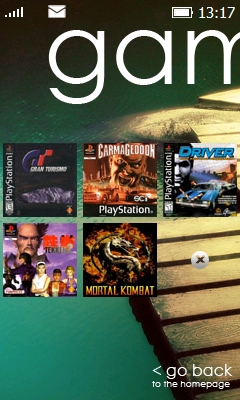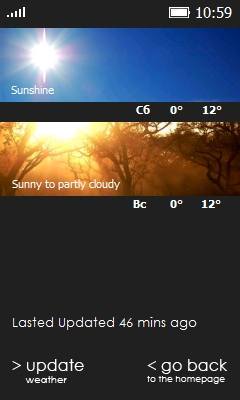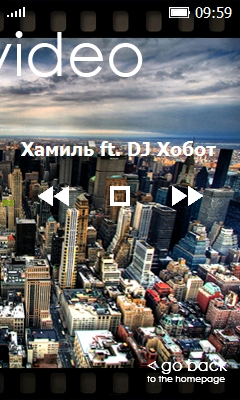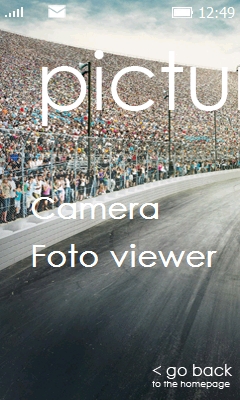 ***************************
Installation:
1. Installation WAD2 (I put version 2.5.3.10).
2. Installation MortScript.
3. Download a file with a theme, unpack.
4. Folder "Utility", copy in folder Program Files.
5. Expose icons for weather big - "BigWeatherIcons", averages - "MiddleWeatherIcons", small - "SmallWeatherIcons".
6. Copy folder "WP7_pecco" in a folder with themes WADa (\Program Files\Lakeridge\WisBar Advance Desktop\Themes) if the way is another animation of icons will not work.
7. Expose portrait theme WP7_pecco.
8. In a folder "Icons" - additional icons to programs (Icon40 is for the pressed icons)
Last version:
WP7_pecco_v5.rar
Link
***************************
Beta version
I here have thought and have decided to alter a theme, it seems to me a bit slow. While has made a beta the version, your council that else it is possible to add is necessary.
Changes have concerned while only the basic three screens. The second screen (with cubes) is located now not under the first, and at the left. It allows to slide easily between all three screens.
As has cleaned animation of disappearance of cubes. It seems to me speed of work more important beauty.
Blocking is transferred now on the button.
The theme is packed in archive, it is enough to unpack archive and to insert in WAD2.
WP7_pecco_v6beta.rar
***************************
Archive of versions:
WP7_pecco_v4.2_full.rar
WP7_pecco_v4.2_off.rar - no animation
WP7_pecco_v3.rar
WP7_pecco_v3.rar
WP7_pecco_v2.rar
WP7_pecco_v2.1.rar - no animation
WP7_pecco_v1.rar
The donation on beer:
WebMoney
Z306757439101
R396936511710
E247582291454
U412117869801


Last edited by pecco on Fri Aug 27, 2010 10:09 pm; edited 14 times in total